Auteur : Robert Anthony SALVATORE
type : H&F
Année :2006 (Version française en 2009)

Contexte : Avant de parler du roman proprement dit, un peu de discussion sur d'où il vient et autre. Certains d'entre vous connaissent peut être le Jeu de Rôle, et même parmi ceux qui ne connaissent pas, je pense que le nom de « Donjons et Dragons » ne vous est pas inconnu. Historiquement premier jeu de rôle (ouais, ceci pourrait être considéré comme un troll), créé par l'ineffable Gary Gigax, ce n'est à la base qu'un ensemble de règles, sur lesquelles plusieurs univers viennent se greffer. Quelques uns parmi les plus connus sont les « Royaumes Oubliés », « Lancedragon », « GreyHawk », j'en passe et des meilleurs. Les plus geeks auront peut être notés les « Royaumes Oubliés », puisque c'est dans cet univers que se déroulent les jeux Baldur's Gate, Icewind Dale, Neverwinter Nights… Et accessoirement ce roman.
R.A. Salvatore a écrit de très nombreux livres sur l'univers des « Royaumes Oubliés », et certains de ses personnages sont entrés dans le folklore. Le plus connus est probablement Drizzt Do Urden l'elfe noir, dont l'histoire est contée dans la trilogie de l'elfe noir, qui date de 1990. Et c'est à l'occasion de la sortie de la 4ème édition de Donjons et dragons que Wizard of the coast a décidé de rééditer tous les romans d'univers. C'est donc le bon moment pour s'y remettre, ils sentent le neuf, et ont en plus bénéficié d'une nouvelle traduction. Par ailleurs, certains n'avaient jamais été traduits en français, c'est maintenant chose faite.

La série : Dans le cadre de la trilogie du val de bise, les héros chers à l'auteur ont été confrontés à un assassin, Artémis Entreri. L'auteur part ici sur une trilogie un peu à part des aventures habituelles, où l'on va suivre les aventures des deux anti-héros Artémis l'assassin et Jarlaxle l'elfe noir. D'ailleurs, les joueurs de Baldur's Gate 2 se rappelleront peut être que l'on croise Jarlaxle dans la ville des elfes noirs.
Cette trilogie, « Mercenaire », se compose de « Serviteur du Cristal », « La promesse du Roi Sorcier » et enfin « La route du patriarche ». Même si je critique le troisième, il n'y aura pas de spoil honteux sur les deux premiers, pas d'inquiétude.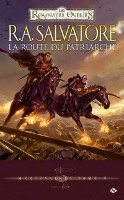 Histoire : Après leurs déboires dans le désert du calimsham, et leur montée en Vaasie, les deux anti-héros sont une fois de plus entrainés dans les plans de conquête du pouvoirs de Jarlaxle. Mais Artémis commence à ne plus supporter toutes ces manigances. Par ailleurs, leur renommée va leur jouer des tours, puisque leurs amis comme leur ennemis commencent à se demander ce que font ces deux étranges personnages dans ces terres d'aventures. Vont-ils devoir encore une fois abandonner tout ce qu'ils ont construits en ces terres, où l'elfe noir rusé a-t-il encore un de ses plans tordus dont il à le secret dans la manche ? Bien des combats épiques les attendent, contre paladins, dragons et demi orques. Nul doute que leur amitié toute relative sera durement mis à l'épreuve par les manigances de chacun.

Commentaire : Comme tous les romans de cet auteur, celui ci se lit bien. L'écriture est fluide, on s'y retrouve assez facilement, et ceux qui connaissent les royaumes oubliés retrouveront avec plaisir les paysages de Faerune. Les autres pourront découvrir un monde très fouillé, remplis de toutes les créatures habituelles et bien d'autres encore, de nombreux royaumes et héros. Cet univers bénéficie de nombreuses années de maturation et est à mon sens un des plus fournis des univers D&D. Après, pour ce qui est du scénario en lui même, il est plein de rebondissement, et même si on s'appesantit un peu trop longuement à mon gout sur les états d'âme d'entreri, ça passe quand même bien.
Mais bon, dans l'ensemble, il est juste bien. Ce roman n'a rien d'un chef d'œuvre, et la trilogie est bien moins prenante que la trilogie de l'elfe noir par exemple. Même si on a envie de lire la suite une fois le premier tome découvert, et qu'on est pas déçu, on est très loin des sagas épiques comme la belgariade, ou la ballade des dragons de pern. Une trilogie à réserver à ceux qui aiment particulièrement les royaumes oubliés, ou si vous n'avez pas d'autres livres sous la main.