Auteur : Robert Anthony SALVATORE
type : H&F
Année :2006 (Version française en 2009)

Contexte : Avant de parler du roman proprement dit, un peu de discussion sur d'où il vient et autre. Certains d'entre vous connaissent peut être le Jeu de Rôle, et même parmi ceux qui ne connaissent pas, je pense que le nom de « Donjons et Dragons » ne vous est pas inconnu. Historiquement premier jeu de rôle (ouais, ceci pourrait être considéré comme un troll), créé par l'ineffable Gary Gigax, ce n'est à la base qu'un ensemble de règles, sur lesquelles plusieurs univers viennent se greffer. Quelques uns parmi les plus connus sont les « Royaumes Oubliés », « Lancedragon », « GreyHawk », j'en passe et des meilleurs. Les plus geeks auront peut être notés les « Royaumes Oubliés », puisque c'est dans cet univers que se déroulent les jeux Baldur's Gate, Icewind Dale, Neverwinter Nights… Et accessoirement ce roman.
R.A. Salvatore a écrit de très nombreux livres sur l'univers des « Royaumes Oubliés », et certains de ses personnages sont entrés dans le folklore. Le plus connus est probablement Drizzt Do Urden l'elfe noir, dont l'histoire est contée dans la trilogie de l'elfe noir, qui date de 1990. Et c'est à l'occasion de la sortie de la 4ème édition de Donjons et dragons que Wizard of the coast a décidé de rééditer tous les romans d'univers. C'est donc le bon moment pour s'y remettre, ils sentent le neuf, et ont en plus bénéficié d'une nouvelle traduction. Par ailleurs, certains n'avaient jamais été traduits en français, c'est maintenant chose faite.

La série : Dans le cadre de la trilogie du val de bise, les héros chers à l'auteur ont été confrontés à un assassin, Artémis Entreri. L'auteur part ici sur une trilogie un peu à part des aventures habituelles, où l'on va suivre les aventures des deux anti-héros Artémis l'assassin et Jarlaxle l'elfe noir. D'ailleurs, les joueurs de Baldur's Gate 2 se rappelleront peut être que l'on croise Jarlaxle dans la ville des elfes noirs.
Cette trilogie, « Mercenaire », se compose de « Serviteur du Cristal », « La promesse du Roi Sorcier » et enfin « La route du patriarche ». Même si je critique le troisième, il n'y aura pas de spoil honteux sur les deux premiers, pas d'inquiétude.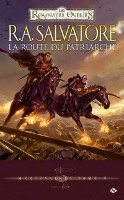 Read more ›